Let 50inTech help you reach your potential and find your next opportunity in tech.

or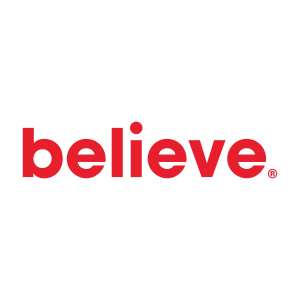 Let's shape the future of music together
Our Mission
Believe's mission is to develop independent artists and labels in the digital world by providing them the solutions they need to grow their audience at each stage of their career.
A unicorn company with 1 500 data driven and music experts located over 50 countries, Believe is one of the world's leading digital music companies. Its mission is to develop independent artists and labels in the digital world.
At the core of its success is a passion for music and a deep respect for its artists and its people. With diversity built into the company's DNA, Believe has a good ratio of gender equality: 54% of the executive committee is composed of women.
But as it keeps growing fast, it is struggling to reach this balance in the tech department. Believe is committed to addressing this gap, with a series of concrete actions to steer the company's growth in an increasingly diverse and inclusive direction.
– Caroline & the 50inTech team
Our Values
Our driving forces are respect, expertise, fairness and transparency: We work to live by these values in all our activities to build long term trust relationships with the artists, the labels and all our partners.
Our Diversity actions
Fair Career Path
Equal opportunities: equal opportunities for all people experiencing recruitment, development and promotion processes.
Inclusive onboarding (Be Fair program)
Equal Pay
Fair pay: everyone who holds the same position, the same level of performance and the same skill set receives a fair wage.
Work-life balance
Remote-friendly company
Parentality:

Initiatives for parents: breast-feeding rooms in Believe's offices
Formal return-to-work program
Breastfeeding rooms available in certain locations

Workshops about Mental Health (to prevent and spot born-outs, bore-outs, etc.)
DEI actions
DEI training program "BeFair"
"Diversity & Inclusion Charter"
Commited to raise awareness: bring employees' attention to unconscious bias and the different forms of discrimination
Trainings

Trainings on equality: tailored program to train employees on the legal implications of discrimination and to encourage everyone to adopt inclusive behaviors in their daily work
Trainings on leadership

Safe workplace: environment where all employees can express themselves safely. A robust protocol in place to deal with discrimination and harassment alerts (whistleblowing platform).
Committed to promote diversity & inclusion: local and international ambassadors' communities to promote and deploy impactful initiatives, with the aim of increasing diversity and inclusion in the workplace.
A global company's policy: in all countries all forms of diversity are encouraged: gender, ethnicity, religious belief, age and disability. A mindset shared with all employees and in the relationships with artists, labels and partners.
Highlighting women experts: series of portraits entitled Women in Music Tech on Believe's blog (https://www.believe.com/blog). A woman from the industry shares her story in each article: her experiences, the challenges she has faced and her insights.
Partnerships in favor of Diversity

Believe is partnering with "Women in Music", a global community "comitted to advancing gender equality, visibility and opportunities for women in the musical art through education, support, empowerment and recognition."
Believe has signed a pledge with Keychange, a music industry international gender equality initiative, committed to carrying out impactful actions to increase representation of and empower women and gender minorities within the music industry. They pledged to work in six key areas to increase gender parity across the organization.
Partnership with MIDiA Research for a global study called "BE THE CHANGE: Women In Music 2022"
Believe for People / Parity ambassador program
Quote
"Diversity in all its form – gender, ethnicity, religious beliefs, sexual orientation, disability, age – is a source of creativity and innovation, it enriches us all, both individually and collectively. Being surrounded with people who do not think like you, challenges you and makes you grow. This is particularly important to offer the best solutions to our artists and labels and in our fast-paced environment. Equity and inclusion are key drivers for our people's well-being and engagement, Believe's goal is to be both an exemplary inclusive and responsible actor in its sector and the best place to work at in the music industry."

– CEO Denis Ladegaillerie
Perks
A rooftop at our office in Paris
A gym and online sports classes
Access to Linkedin Learning
Well-being program
Commitments to limit Believe's carbon and environmental footprint
Actions towards gender equity in the workplace
A healthy and eco-responsible company restaurant
Individual coaching program for all our managers
30-day parental leave with 100% pay for the second parent
Implementation of the sustainable mobility package (alternative transport)
Recruitment Process
The recruitment process will vary according to the role that you are applying to. Steps include: an interview with a member of our Talent Acquisition team; completion of a technical test or business case; an English language test; an interview with the Hiring Manager; followed by an interview with the Manager +1.
Supported communities
Believe has signed a pledge with Keychange, a music industry international gender equality initiative and has entered a pledge agreement with Music Declares Emergency, an independent group working towards a greener future.
Relevant data
Women in the workforce
40%
Women in technical roles
20%
Women in managerial roles
34%
Women in Engineering roles
8%
Women in Product roles
47%
Diversity Stories