Let 50inTech help you reach your potential and find your next opportunity in tech.

or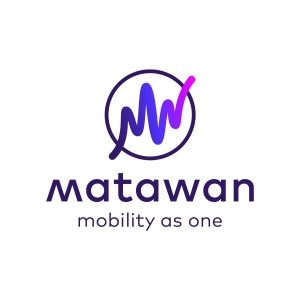 Matawan (ex Ubitransport)
Our Mission
Matawan (ex Ubitransport) is a pioneer and leader in digital Intelligent Transport Systems with more than 300 transport networks equipped in France and Canada. Today, we are one of the most promising start-ups in France and internationally: a member of the French Tech 120.
Matawan is a data platform for real-time solutions dedicated to public transit and shared mobility. This level of innovation is the reason that this company is part of the French Tech 120 program (a program that supports the most successful French start-ups on their journey to becoming world-class technology leaders).
Yet, even with all of these amazing accolades, Matawan is dedicated to achieving true gender equality in the workplace; even as far up as at the board level. This is why they made the bold decision, this past year, to sign the French Tech Parity Pact.
Still, there are so many other reasons to love this leading-edge company! For one, throughout the past couple of years, they have allocated part of their annual budget to adjust fairly employee compensation.
Additionally, they are constantly thinking of new ways to help all employees, regardless of gender, advance in their careers: through the introduction of mentorship programs, training sessions, and more inclusive policies.
So far as we can see, 2023 is most certainly shaping up to be a fruitful year for this leading tech scale-up
– Caroline & the 50inTech team
Our Values
Be all eyes and ears for the others ; self-discovery is at the end of the road
Build as a team the road to tomorrow
Think out of the box to innovate as a trailblazer
Raise collectively the bar to meet a high standard of expectation
Nurture audacity and a doer spirit
Act and talk consistently
Our Diversity actions
Fair Career Path
For those in the engineering and project department, who are interested in career advancement, Matawan has outlined the core competencies required to progress to each of the five levels.
The list of core competencies is reviewed annually to ensure that it remains fair.
To prevent bias during the annual job review (which usually takes place in April), managers use a fact-based evaluation system to determine employee productivity.
To be eligible for a salary review and/or promotion, an employee must have already been working at the company prior to the 1st of September of the previous year.
Everyone is assigned a buddy during employee onboarding to ensure a smooth transition during their first few months at the company.
In fact, due to the intricacies of their work, employees receive continuous support for at least the first six months. Frequently, training session are proposed to all employees for skills and personnel developpement and the company's investment in these actions is continious and increasing every year !
Equal Pay
To show their unwavering commitment towards achieving gender parity, Matawan signed the French Tech Parity Pact in March of 2022. This means that the company has committed to delegating 20% of its board seats to women by 2025, and 40% by 2028 and already complies with this engagement
Even with a fact-based evaluation system put in place, Matawan is aware of how unconscious biases can still influence who managers choose to reward a bonus to or promote in the workplace. Therefore, a dedicated fair compensation comitee is tasked with reviewing all salary increase and job promotion requests, annually.
The Human Resources Director, who completed the INSEAD Gender Diversity Certificate Programme, oversees a special budget, which can be dipped into in order to compensate employees who were (unintentionally) overlooked during their annual job review.
Work-life balance
Matawan has implemented a hybrid work policy, which outlines how many hours and/or days employees are allowed to work remotely and in-person.
Everyone is expected to come into the office at least twice a week.
Employees can make a request to their manager to work remotely for some days per year from anywhere in mainland France.
The company prioritises the quality of work produced and not the amount of time taken to do the work.
To make sure that everyone stays at the top of her/his/their game, all employees must take at least three weeks off during summertime.
Extra benefits include the maintenance of one's salary during maternity leave,(after one year of seniority) as well as covering 60% of all employees' accident and health insurance monthly payments.
Members of an employee's immediate family are also covered under the insurance plan for no additional fees .
Work hard, play hard: The company organises fun team-building activities throughout the year, such as the Annual Summer Days, 2 full days with team building worskhops, company's presentation and all together lunch and fun activities ! and more ? pumpkin carving workshop at Halloween, as well as arts and craft workshops and Secret Santa gift exchanges at Christmastime ; on premises, employees can also really disconnect during lunch pause with babyfoot, playstation and boarding games
DEI actions
Matawan has been actively working towards improving awareness around diversity, equity and inclusion topics. This is why they have provided training sessions focused on the importance of multicultural communication to managers working with employees based outside of France.
The company has a works council that is tasked with helping employees sort out any work-related issues
Members of the council conduct cross interviews with managers and employees to get to the bottom of any issue that has been brought forth.
There is also a point of contact for employees seeking information on how to deal with issues of harassment in the workplace.
The company is currently formalising the details of their alert procedure.
To reduce bias during the recruitment process, candidates are assessed based on a list of hard skills prepared in advance by department managers.
Quote
"We are committed, in a very male-dominated tech sector, to fostering ever greater diversity within our teams by welcoming and supporting women in their careers and ensuring equity"
Audrey BAREILLE , Chieff People Officer
Perks
🏡 2 or 3 days remote / week
🏰 Offices in the heart of the city
🍕 Meal vouchers 8€
⚕️ Family mutual insurance taken in charge at 60%
🌞 9 to 12 days of RTT/JRC / year
Recruitment Process
Softskill interview with a member of the HR team (Arnaud or Maude) - 45 min, visio
Tech interview with manager(s) - 60 min, visio
Optional - Culture meeting with a future colleague - 30 min, visio or on site
Relevant data
Women in the workforce
42%
Women in technical roles
17%
Women in managerial roles
40%
Women in Engineering roles
14%
Women in Product roles
27%
Women in C-level roles
60%
Diversity Stories