Let 50inTech help you reach your potential and find your next opportunity in tech.

or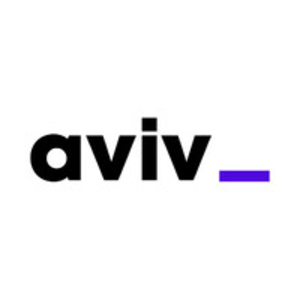 Unlock everyone's perfect place
Our Mission
Meilleurs Agents, Groupe SeLoger, Immoweb, Immowelt, Housell, Yad2, are some of Europe's best known digital real estate marketplaces and brands which form AVIV Group. AVIV is one of the world's largest, privately owned real estate tech companies and a subsidiary of Axel Springer.
We move the world and shape the future by simplifying the way real people realize life's most important decisions. Whether you buy, sell, rent or lend properties in Europe and the Middle East, we are here to unlock everyone's perfect place!
AVIV is a cutting-edge European Tech Group. They're a young organization rooted in renowned companies with robust ties to their local communities. They know that their strength lies in diversity and that they will only be able to appeal to everyone as a real estate business if all genders, races and cultures are represented within the group. To AVIV, Diversity and Inclusion isn't a HR programme, it's at the core of their business!
With exciting projects like AVIV Evolve, and the launch of their Inclusion Networks/ Employee Resource Groups, they want to be at the forefront of DE&I, and have one major ambition: become one of the Top Five Employers of Choice in their field by 2026. What they say: Diversity is nothing if we don't create an inclusive culture, and at 50inTech, we couldn't agree more!
They're at the start of a huge transformational journey and thrilled to embark with fantastic people and great women alongside them! 50inTech shares the excitement. We feel honoured to partner with AVIV Group: a vibrant, fresh and innovative take on the real estate business: Viva AVIV!
Our Values
🤝 CUSTOMER OBSESSED: You are curious about and get to know your customers.
🙌 ONE TEAM: You are strongest when we act together and weakest when in silos.
🔍 DATAFY: You use data and make data driven decisions.
✅ SIMPLIFY: You make things simple for our customers and your colleagues.
📊 DELIVER RESULTS: You focus on great results rather than the process.
Our Diversity actions
Fair Career Path
We do have a Competency matrix in place.
Managers or supervisors involved in career pathing: Yes, and working hard at the moment!
We make sure that newcomers are supported during and after the onboarding process with our buddy system.
💥 Coming Soon: AVIV Evolve
Diversity, Equity and Inclusion are the heart of all our strategies within AVIV Group. We're launching AVIV Evolve: our own career and development path journey system.
EU legislation will make analysis on pay equity mandatory within a few years. We're not waiting and are looking into this analysis already. We're determined to ensure that we're setting the right fair career path model for all our companies: how do we mitigate bias over the course of the assessment process? How do we talk about employees' performances, achievements and make sure that we're actually challenging any bias coming out during the conversation? We have lots of exciting initiatives in place to work on such
things.
Equal Pay
Annual salary review: Yes.
42.82% of women in the group have benefited from a salary increase in the last year.
Work-life balance
We offer a remote and flexible work schedule structure within our teams.
Flexible holidays scheduling: Yes.
Aviv's culture supports paid parental leave for both parents.
Extended paid maternity leave: Yes.
Extra benefits: Loss compassionate leave, Paid leave for senior care, Insurance policies.
In a panel group survey, over 70% of respondents felt strongly supported or supported in their parental or caregiver obligations. Over 60% felt that AVIV allowed for a good work-life balance, even in a time when the group and their umbrella companies are undergoing major changes.
We value autonomy inside our teams and we believe in trust. We're an impact business, so as long as we're making an impact, we know that our employees are doing a great job, and we let them organize their day-to-day tasks: how you do your job, and when, is pretty much up to you, in responsibility. However, autonomy doesn't mean solitude and management is there for you when needed. Flexible work means coming to the office at least once a week for collaborative moments and team sharing.
DEI actions
Accessible support and open dialogues about DEI related subjects: Yes.
Unconscious bias training and education: Yes.
DEI learning and commitment: we organize internal events and meetings on DE&I topics, like encouraging the use of preferred pronouns.
An appointed team works on our DE&I strategy, and sponsors from the leadership team are there to support initiatives and lend their voice.
Priorities when recruiting: Technical skills.
Junior/entry-level candidates hired: Yes.
Career change candidates hired: Yes.
D&I strategy links to AVIV's mission: 'to unlock everyone's perfect place'. Key word: everyone. Which we can only achieve if the group policies cater to each within AVIV Group, no matter race, gender, orientation… We're in a unique situation: the strategy inside the group mirrors our commercial strategies. D&I is the business.
💥 Coming Soon: AVIV D&I initiatives
The AVIV Gender Balance network. We need more female senior leaders in the group, and we're launching the AVIV Gender Balance Network to provide women with tools to grow their own network.
The inclusion Network: for male, female and all genders. Events, strategic projects, best practices brainstorming … and so much more!
In-house developed bespoke Unconscious Bias and Microaggression training programmes.
LinkedIn Learning platform on DE&I.
Diversity and inclusion ambitions for the next year: Our Goal Together
This year is all about building the foundations, the strategies of a strong DE&I culture within AVIV and embarking everyone with us in an exciting learning journey. We want to share our challenges and successes, our ups and downs on the path to making the AVIV Group a flagship for the full spectrum of DE&I. We want our people to know that they have their voice and their say. We want to present ourselves in the most honest, authentic way because it's who we are. Empowering women in Tech is paramount for us because they're tremendous assets for a group like AVIV. We want to support, attract, engage and convert female talents. We want to reach great and inspirational women. 50inTech is a platform dedicated to passionate women and technology: we're convinced that the women we're looking for are right here, right now!
Quote
"Ensuring our business is diverse, represents the makeup of our external customers, and brings a variety of voices to the table is paramount for us to deliver innovation and results. We must also understand, appreciate and celebrate differences across the AVIV Group - by doing so we are able to act together as one. We're at the beginning of this journey, with hurdles to overcome. But I'm so excited by the road ahead and the impact it'll have on our people, our customers and our stakeholders".
- Caroline Evans De Gantes (Managing Director of AVIV France)
Perks
30 days annual leave
Hybrid or remote working options
Flexible working hours
Company pension scheme
€50 public transport allowance
€100 allowance for glasses
A mix of Health and Wellbeing benefits
Bicycle leasing (Job Rad)
Berlin only - Subsidised canteen
Berlin only - Kindergarten
Charity fundraisers
Recruitment Process
Typically, you'll go through a 4 stage recruitment process which'll consist of:
Informal chat - you'll chat with one of our recruiters who'll look to understand more about your experience and your expectations
Formal chat the hiring manager will reach talk you through what you can expect from the role, whilst understanding more about what you can bring
Technical test / Case study - although a scary thought, these have been designed for us to see where we can develop you
Informal meeting - we'll have you meet the hiring manager again and perhaps members of the team you'll be joining
Every role is different and therefore might have a different recruitment process. The above is a general idea of what you'll commit to.
Relevant data
Women in the workforce
43%
Women in technical roles
26%
Women in Engineering roles
14%
Women in Product roles
48%
Women in C-level roles
30%

Diversity Stories