Let 50inTech help you reach your potential and find your next opportunity in tech.

or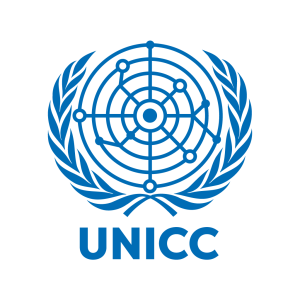 Digital. For the UN family
Our Mission
The United Nations International Computing Centre (UNICC) has over 50 years of experience as a strategic partner in the United Nations system in providing trusted services and digital business solutions. UNICC has been expanding the services it provides to over 90 partners in all parts of the world and across the technology landscape.
UNICC is an international organisation with a strong global impact. They have developed many actions such as applications to help refugees get money when they arrive in a new country. This humanitarian aspect is very important not only from a commercial perspective, but from a human-centered organisation perspective that also focuses on building projects to benefit our society, a significant consideration in a world where everything is profit-oriented. In terms of management, the organisation has a high gender score, and a low turnover rate, which means that people want to stay in this company. And for women, the company also offers a supportive workplace, with a strong commitment to women's well-being and a fair career path.
– Caroline & the 50inTech team
Our Values
"Individuals and teams at UNICC go the extra mile, seek excellence in everything they do, and set the highest standards with respect, curiosity, pride, passion, flexibility, honesty and transparency, providing the superior service relationships that our Partners and Clients expect and deserve."
-Sameer Chauhan, UNICC Director
Our Diversity actions
Fair Career Path
UNICC is an international organization with good career opportunities and a rewarding environment with promotions and position reclassification options.
In order to identify and facilitate selection of qualified candidates, UNICC has a Talent Pool that allows women to submit applications all year long stating their area of expertise. Recruiters then contact the candidates when a vacancy matches their profile.
Equal Pay
UNICC is an international organisation with pre-established salary scales, which means there is less room for salary negotiation but ensures same pay levels for women and men. Every year, employees subject to satisfactory performance records move up by one step on the salary scale and receive a pay rise.
Work-life balance
UNICC provides its staff with an environment that enables a good work-life balance: access to training, teleworking, adjusted working hours, part time work and other wellbeing initiatives.
UNICC offers inclusive, flexible and family-friendly working arrangements with a variety of modalities that include fully flexible schedules and fully remote options.
Staff members are entitled to benefits that support international careers. These benefits can include health insurance coverage, dependency (child and spouse) allowances, education grant, relocation grant, rental subsidies, generous leave allowances and more.
The organization's maternity leave is generous and its breastfeeding policy allows for 25% paid time off daily until the child's first birthday, and flexible working hours until its second birthday.
DEI actions
The organization is committed to achieving a geographical balance among staff and good representation of people from the Global South. A particular emphasis is put on working to achieve gender parity in the organization with a target of reaching 50% women in the workforce by 2028.
They are part of several initiatives at the UN level, including having representatives at UN Globe, an association that supports the LGTBQIA+ community, people with disabilities and minorities. Staff are also encouraged to include their pronouns in their signature, display the LGBTQIA+ flag in their Teams background and speak up against discrimination.
Diversity and inclusion ambitions for the next year
UNICC has made gender, diversity and inclusiveness central to its mission with the ambitious goal to achieve gender parity throughout the organization by 2028. UNICC is putting the right means to succeed: through a Gender Parity Strategy, improvement areas have been identified and an action plan is being implemented, with accountability, monitoring and reporting.
The organization is systematically mainstreaming the gender element in processes like selection, training and career development for all staff members. To help advance this agenda, UNICC has also appointed a Gender Champion in each division.
The organization not only focuses on gender, but also on diversity and inclusiveness in a broader sense, with initiatives to improve accessibility. UNICC, as an equal opportunity employer, seeks out individuals across race, gender, nationality, age and sexual orientation as can be seen in all job descriptions.
UNICC also champions gender, diversity and inclusiveness in its outreach and advocacy, through strategic partnerships and alliances with a growing number of organizations and collaborative activities worldwide, including International Gender Champions, UN Globe, EQUALS Partnership, UN Women's UN-SWAP, Break Through Tech and more.
UNICC is committed to bringing gender parity, diversity and inclusiveness into the digital business field. The organization will continue to organize and participate in initiatives to promote diversity, raising awareness inside and outside of UNICC and taking action to improve diversity and inclusion in technology. Ending discrimination is crucial to an equitable, sustainable future and it is an accelerator towards meeting the Sustainable Development Goals.
Quote
"UNICC is tasked with delivering scalable cybersecurity and digital solutions for the UN family, as effectively and creatively as possible. We can live up to these expectations only by ensuring we have adequate diversity of perspectives - by gender as well as by sexual orientation, nationality and race."
- Sameer Chauhan, Director, UNICC
Perks
Salary scales are public and can be accessed through this link: Salary Scales | ICSC (un.org). UNICC offers generous leave and absence allowances, overtime compensation, access to learning, health insurance, pension fund and depending on eligibility, other entitlements such as relocation and settling-in grants, dependency and language allowance, home leave travel, education grant and rental subsidy.
Recruitment Process
Interested candidates are invited to apply to the open vacancies or flag their CVs to the recruiters. Shortlisted candidates will be interviewed and provided with more information on the next steps and timeline throughout the recruitment.
Relevant data
Women in the workforce
34%
Women in technical roles
28%
Women in managerial roles
34%
Women in Engineering roles
28%
Women in C-level roles
50%

Diversity Stories